Food Donations For Our AISD Neighbors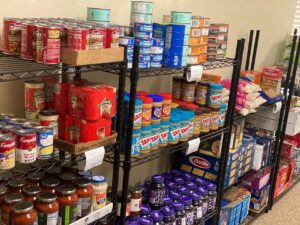 We are adopting two local elementary schools, Jones Academy and Hill Elementary School, and helping to make sure children in need have enough healthy snacks to pull them through the weekends.
You can help in three big ways:
Volunteering to assemble snack bags in the New World food pantry.
Volunteering to deliver assembled bags to the elementary school.
Donate healthy snack items such as these

:

Beef sticks, Mac & cheese cups, Applesauce, Ramen noodles, Oatmeal, Vienna sausages, Nutrigrain bars, Individual cereal boxes, Cheese crackers, Juice boxes (100% juice), Tuna packets, Chef Boyardee cups.
(Please avoid items with peanuts/tree nuts)
Local Mission Immediate Need
Nichols Junior High has several students in need of basic items. The counselor who helps homeless/transitional students is seeking donations of new or gently used jackets, new underwear, new socks, deodorant and hygiene products for both boys and girls, plus period products for girls. Clothing sizes range from youth medium to adult large. If you can help cover these basic needs, please bring donations to the church. If you have any questions, contact Rev. Erin (
erin@nwumc.org
)