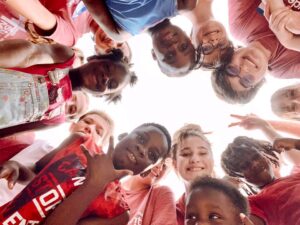 Student Ministry
Serving students from grades 7th- 12th, this ministry offers a place to find community with individuals your own age. From worship to small groups and mission opportunities, we provide a place to get involved and serve God. Listed below is what a typical Sunday looks like for the youth at New World. We stay very busy! We strive to be a welcoming community that guides students to develop a stronger faith in Christ through study, service, fellowship, outreach, and worship. Most importantly, we are servants and disciples of Jesus, and we are more than friends, we are a family.
Sunday Worship 9:30 am
Sunday School 11:00 am
Hands & Feet Youth Band 4:00 – 5:00
Shine (Sunday Night Program) 5:00 – 7:00
QUESTIONS? Contact Sarah Henson, Director of Youth Ministries, for more information at sarah@nwumc.org.